The Monoprice SB-300 soundbar offers Dolby Atmos compatibility and good sound, for a simplified home theater setup.
Sometimes simplicity is better, especially when adding a home theater speaker system to your home or office. The Monoprice SB-300 soundbar brings Dolby Atmos support to any TV setup without breaking the bank.
The built-in speakers in most modern TVs are convenient, but they usually lack sound quality or volume, so customers are forced to find an external solution. Home theater speaker systems can range from under a hundred dollars to thousands of dollars, depending on your needs.
We've found the Monoprice SB-300 to be the perfect choice for anyone looking to add a speakerphone to their apartment or bedroom. Since the SB-300 does not have a separate subwoofer, it is suitable for apartments and makes wiring and setup easy.
Design
The SB-300 is an unpretentious soundbar, without sleek curves or bright flashing lights – and that's a good thing. The design will blend in with most home theater setups and sit underneath your TV without being a distraction.
The sound bar is completely constructed of plastic and uses an LED behind the speaker grille to display information. There are no flashing lights or glowing screens, which minimizes the risk of distracting your attention from on-screen content.
A dimmer button on the remote can be used to adjust screen brightness levels, and there is a setting that turns the screen off completely.
Connections and controls
Four audio options are available for the sound bar: Voice, Sport, Movie, Music. These can be changed using the included remote control.
There is no "standard" mode that does not perform any processing, so we default to Movie for most content. Plus, needing the remote to manually change sound modes makes it a slightly cumbersome experience.
The soundbar itself has power, mute, and volume buttons for quick access to essential controls. There is also a Bluetooth input control and pairing button on the top of the sound bar.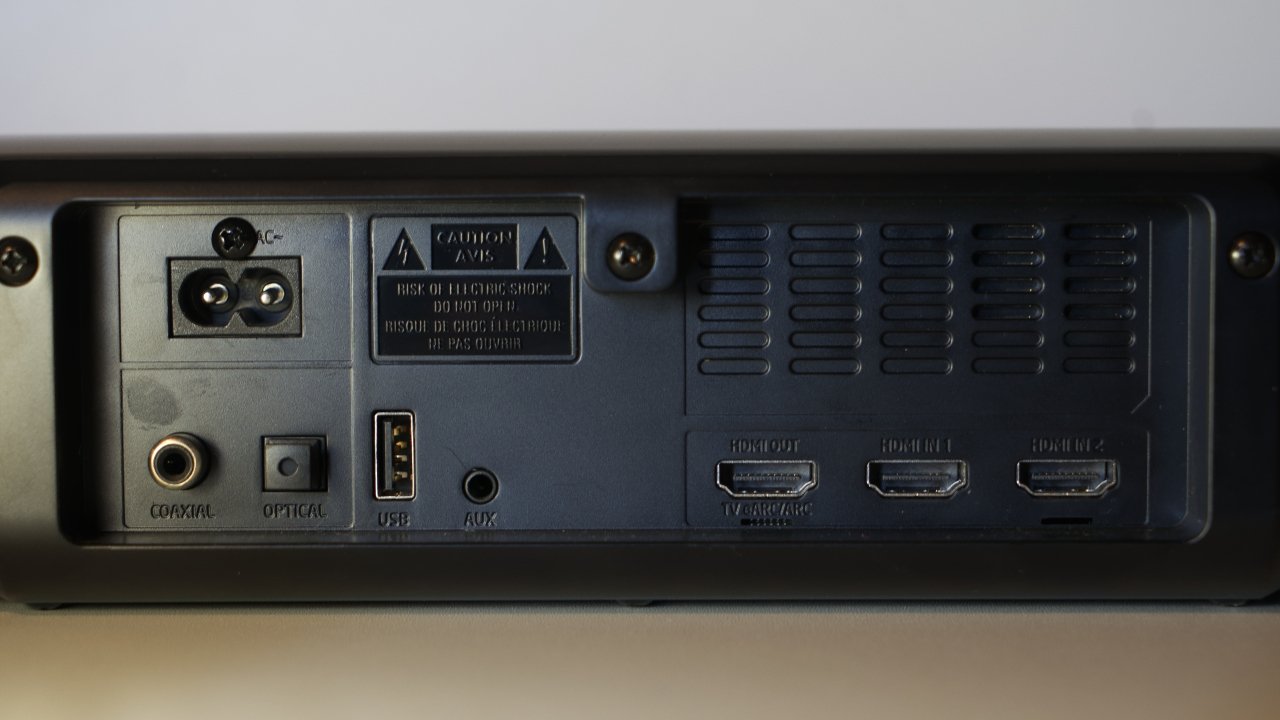 You would expect a speaker in this price range to be limited in the choice of inputs, but the SB-300 has a lot of options. There are two HDMI input ports, coaxial, optical, a 3.5mm audio jack, and a USB-A port.
Most users will take advantage of the HDMI port, but the other port options for older setups make this speaker versatile. Additionally, the two HDMI 2.0 ports could help simplify the connection of devices like an Apple TV or Playstation if the TV used has a limited number of HDMI inputs available.
The USB-A port allows external storage drives or MP3 players to connect directly to the speaker. Smartphones or computers can take advantage of the 3.5mm jack or Bluetooth.
The SB-300 is a 2.1 speaker system, which means it has two speakers in stereo and a woofer used for bass. Typically, speakers in this price range would include an external subwoofer, but we found that the soundbar provided enough bass on its own.
That being said, we would prefer an external subwoofer at this price point as a dedicated subwoofer would produce a better base than the soundbar alone.
Using the Monoprice SB-300 soundbar
We tested the sound bar using the HDMI eARC connection to our Sony TV. The media player used was an Apple TV 4K connected directly to the Sony TV input.
Since the soundbar was connected via HDMI eARC, we could control the volume using the Apple TV remote and the iPhone Remote app without any additional setup. It also means that the iPhone can control the volume of the soundbar while displaying the currently playing widget on the lock screen.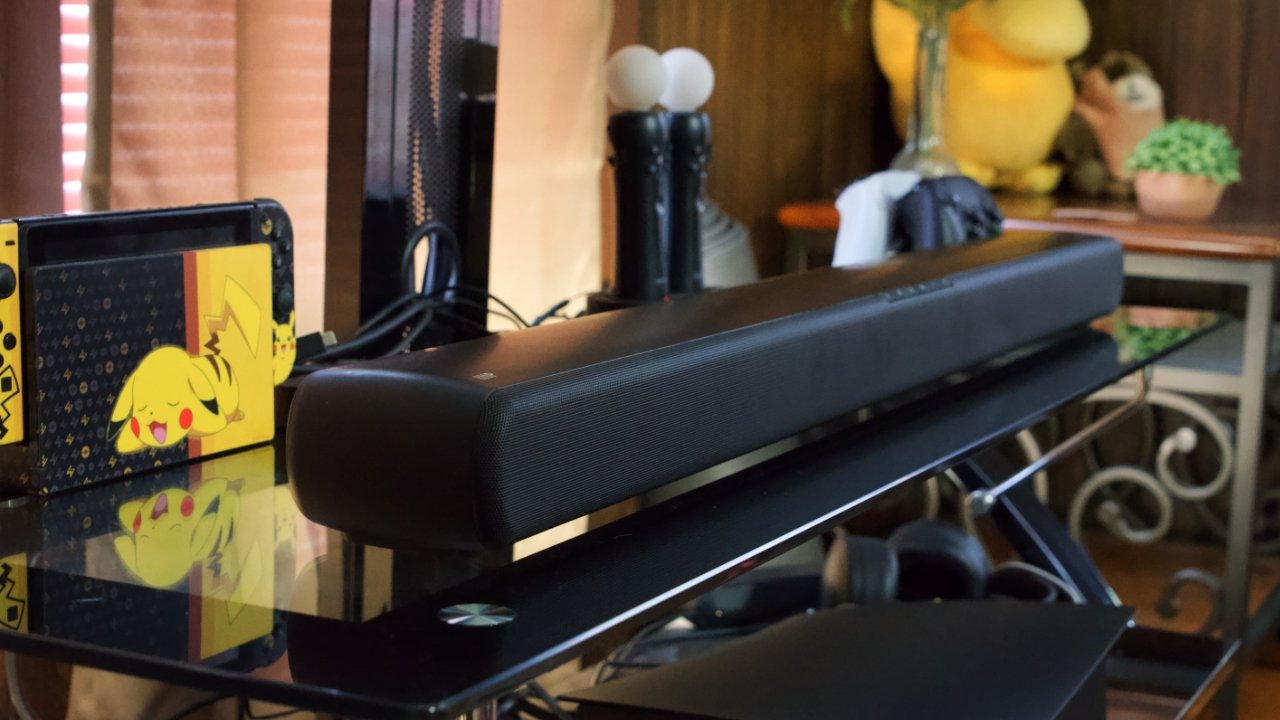 The maximum speaker volume was loud enough to be audible in noisy environments, but not so strong that it distorted the sound. However, running a strong fan or nearby air conditioning unit may be enough to drown out the speaker, except at the highest volumes.
We tested various mounts on the soundbar, and everything came out clear and loud without any issues. Some small speakers have issues with dynamic audio, but the SB-300 can keep vocals and music separate and distinct.
Movies encoded with surround sound or Dolby Atmos performed very well despite the 2-speaker sound bar. Although it can decode Dolby Atmos, it uses this data to try to simulate surround sound in a stereo environment.
The simulated surround effect is noticeable and not unwelcome. The sound bar was able to make sounds appear "outside" of the speaker enclosure using clever audio tricks.
Should you buy the SB-300 sound bar?
We can't recommend it highly enough to someone looking for a sound bar to fit into their tiny apartment or bedroom. The speaker is very loud and does not produce enough bass to annoy your neighbors.
However, if you live in a noisy environment, have constant fan noise, or have an air conditioning unit near the TV, you may want to find a more powerful speaker. We found that the higher volume could barely overcome the noise of an old air conditioning unit nearby.
The sound bar comes with everything you need in the box, even wall mounting brackets. For a sound bar under $ 150, we think you'll be happy with the audio quality and ease of installation.
Able to play at maximum volume without distortion
Excellent sound separation for a surround effect
Multiple input options for maximum compatibility
No external subwoofer despite the price
Audio modes lack customization or control
May be louder at highest volume
Rating: 4 out of 5
Where to buy the Monoprice SB-300 sound bar
The Monoprice SB-300 soundbar is available on the Monoprice website for $ 179.99.